Tattoos have long been a popular way to express your individuality and self-expression. One interesting option is the hare tattoo. This attractive and delicate image can be a great addition to your tattoo collection. However, before proceeding with the tattoo, there are a few important things to keep in mind.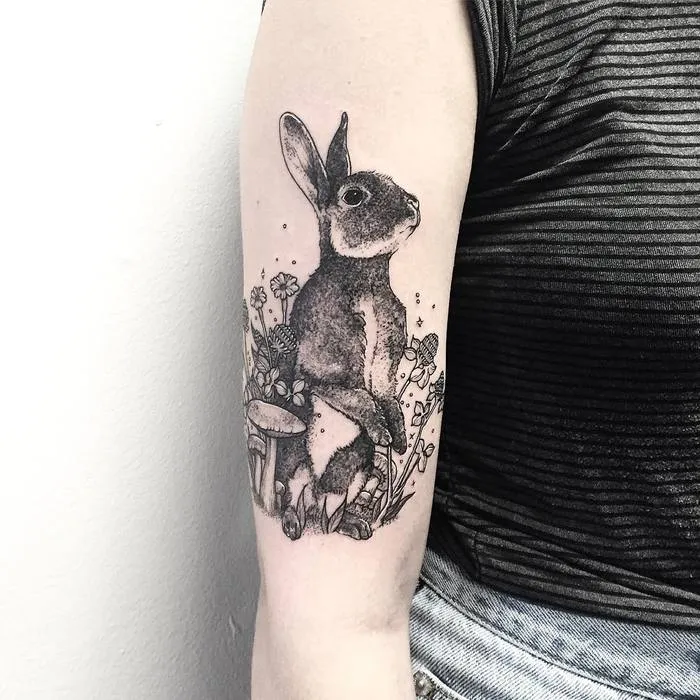 Choosing a place for a bunny tattoo
The first thing to consider is the choice of location for the tattoo. Since the hare tattoo is quite small, you can choose almost any part of the body. But, as with any tattoo, it is important to consider how that body part will look in a few years.
Some of the most popular places for a hare tattoo are the wrist, forearm, neck and ankle. On the wrist and forearm, a hare tattoo can be part of a larger tattoo collection, while on the neck and ankle it can be a self-contained image.
It is also worth considering that the place on the body chosen for the hare tattoo may be important in its care. For example, a tattoo on the neck may be more difficult to care for than one on the forearm.

Care of a hare tattoo
Once the hare tattoo is created, it is important to monitor its care.
This is to prevent infections, speed up the healing process, and keep the color of the tattoo bright.
Before you start caring for your tattoo, make sure it is fully healed. This can take up to several weeks after it is created. Also, make sure that you only use natural and quality tattoo care products, and stick to these rules:
Don't touch the tattoo. It is important not to touch the tattoo with dirty hands or other objects. This can lead to infection or damage to the tattoo.
Do not soak the tattoo.Also, do not soak the tattoo in water, especially dirty or polluted water. This can lead to infection and deterioration of the tattoo.
Apply tattoo care cream. Apply tattoo care cream to clean and dry skin. This will help maintain the brightness and quality of the tattoo.
Do not cover the tattoo with plastic. Do not cover your tattoo with plastic, as it can lead to bacterial growth and infection.
Avoid the sun and ultraviolet rays. Avoid direct sunlight and ultraviolet rays on the tattoo. This can degrade the quality of the tattoo and cause it to fade.