A goldfish is a symbol of wish fulfillment. In many cultures, this little fish, is considered a symbol of good luck and success. But what if we tell you that the goldfish can become not only a symbol, but also a tool in the fulfillment of your desires? In this article, we will tell you about the goldfish tattoo and its possible impact on the life of the wearer.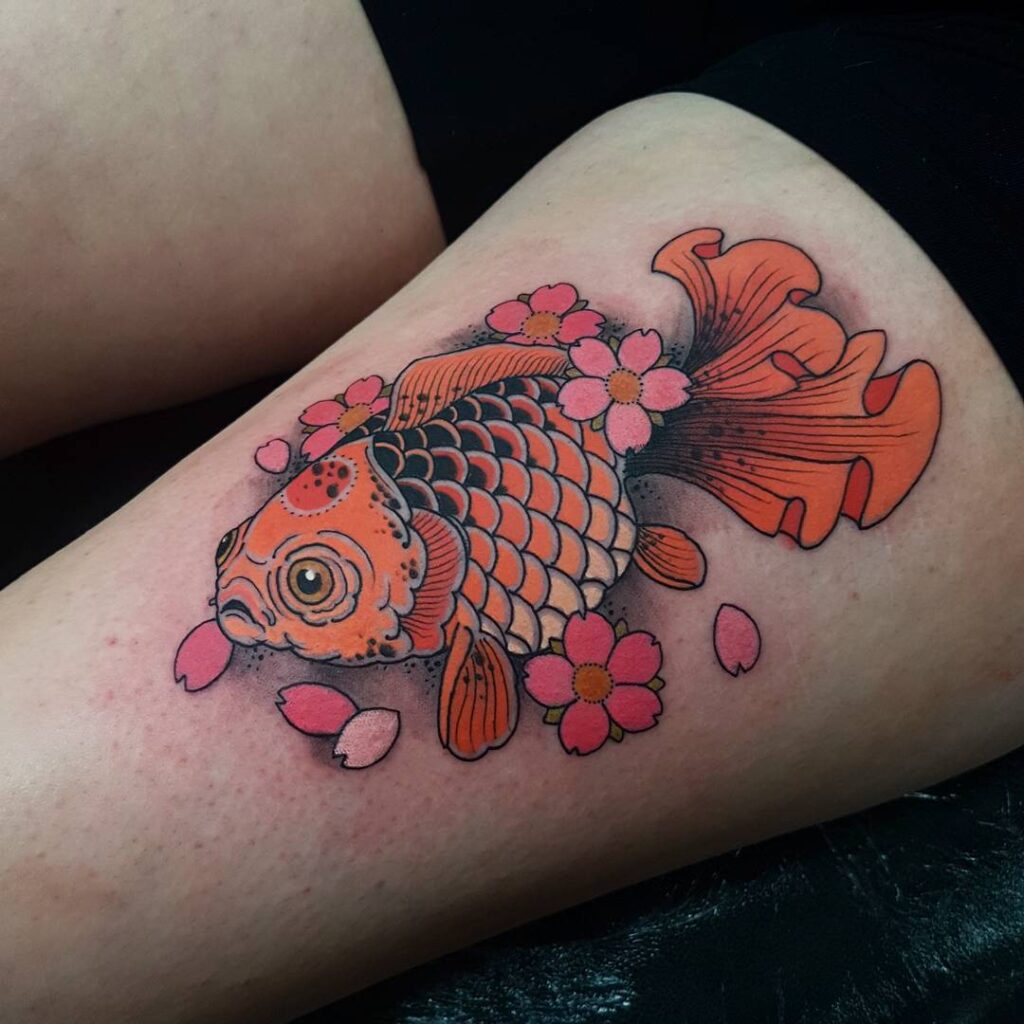 History of the goldfish tattoo
The history of the goldfish tattoo begins in Asia, where these fish were considered a symbol of good luck and wealth. Goldfish tattoos were often chosen as an amulet to protect against evil spirits and to attract good luck in business. In China and Japan, such tattoos were also considered a symbol of strength and courage, which was often depicted with bright colors.
Over time, goldfish tattoos became popular not only in Asia but around the world. Modern goldfish tattoos are often done in a realistic style, using hyper-realistic and new-skool techniques. Goldfish tattoos in the style of traditional japanese and chinese painting are also common.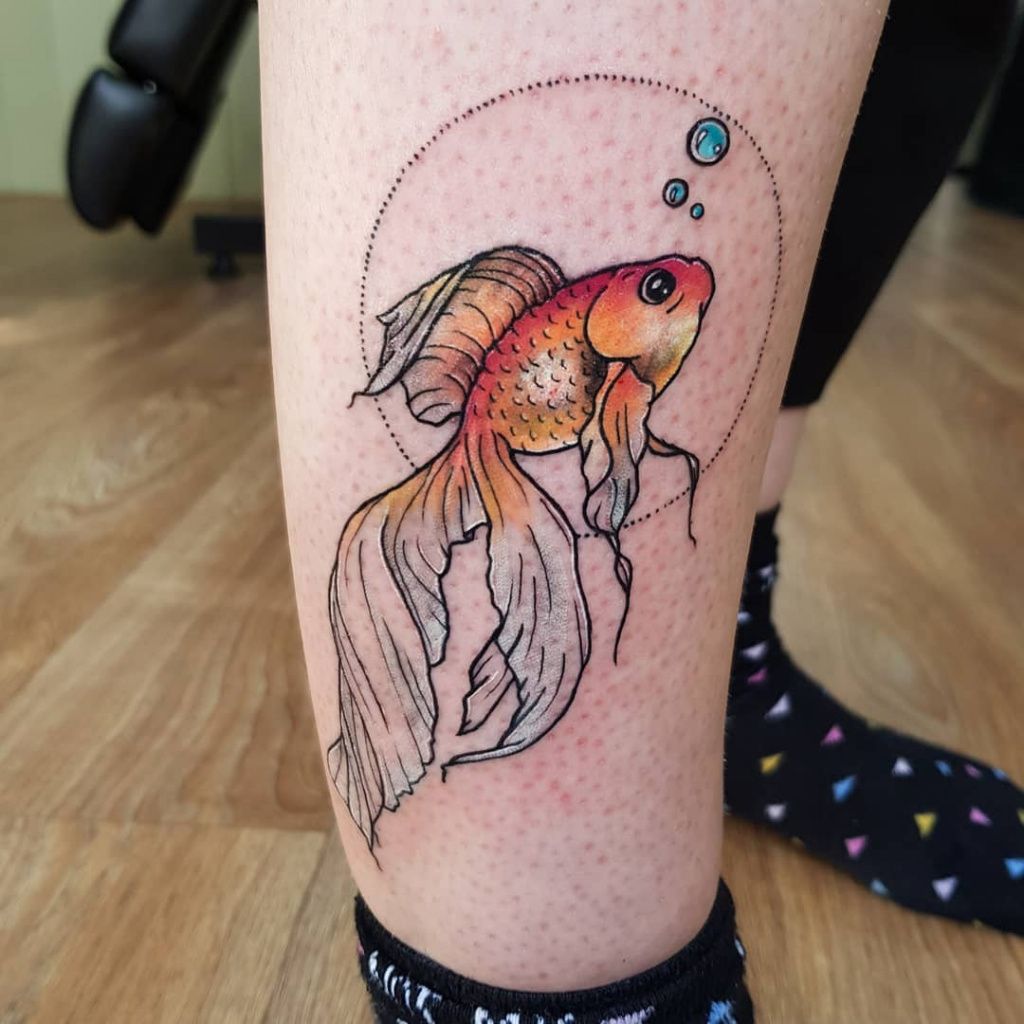 Goldfish tattoo symbolism
The symbolism of the goldfish tattoo can have different meanings for different people. In general, it is associated with good luck, prosperity and wish fulfillment. This is due to the legends and myths associated with goldfish, which say that if you catch a goldfish and make a wish, it will certainly come true.
Goldfish tattoo can be a reminder that good luck is in the hands of the man himself, and that we need to work to achieve their goals and dreams. It can also symbolize wealth and abundance, and remind us of the need to be grateful for what we already have in life.
For some people, a goldfish tattoo can be a reminder of past successes and accomplishments that can help them keep moving forward in the future.
For others, it can be a symbol of hope and belief that their wishes and dreams will be fulfilled.
A goldfish tattoo can also have meaning in the context of religious and spiritual beliefs. For example, in some cultures, a goldfish may be associated with the goddess of wealth and abundance. In other cultures, the goldfish may symbolize spiritual enlightenment and insight.
Regardless of the meaning of a goldfish tattoo for each person, it is important to remember that it is a personal symbol and can help its wearer in various aspects of life. It can also be a beautiful piece of jewelry that will accentuate the personality and style of its owner.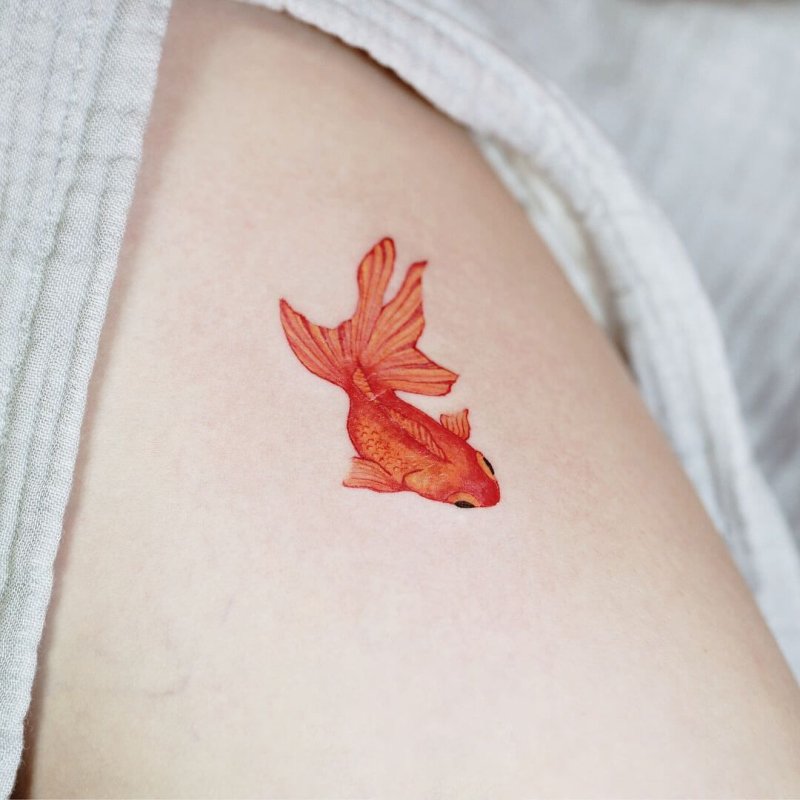 Goldfish tattoo: a path to wish fulfillment?
Many people believe that a goldfish tattoo can help them fulfill their wishes. But how true is this?
In fact, a goldfish tattoo has no magical properties. It can become a symbol and remind its owner that he or she should work towards achieving their goals and dreams.
A goldfish tattoo can also be a reminder that luck is in the hands of the person himself, not in external circumstances.