In the world of tattoos, every drawing on the skin has its own meaning and symbolism. One of the most popular and powerful images is the falcon tattoo. It is the embodiment of majesty, freedom, and power that are associated with this magnificent predator of the heavens.
The falcon tattoo not only attracts attention with its aesthetics, but also carries deep symbolic meaning.
In this article, we will take a closer look at the falcon tattoo, exploring its history, symbolism, and popular designs.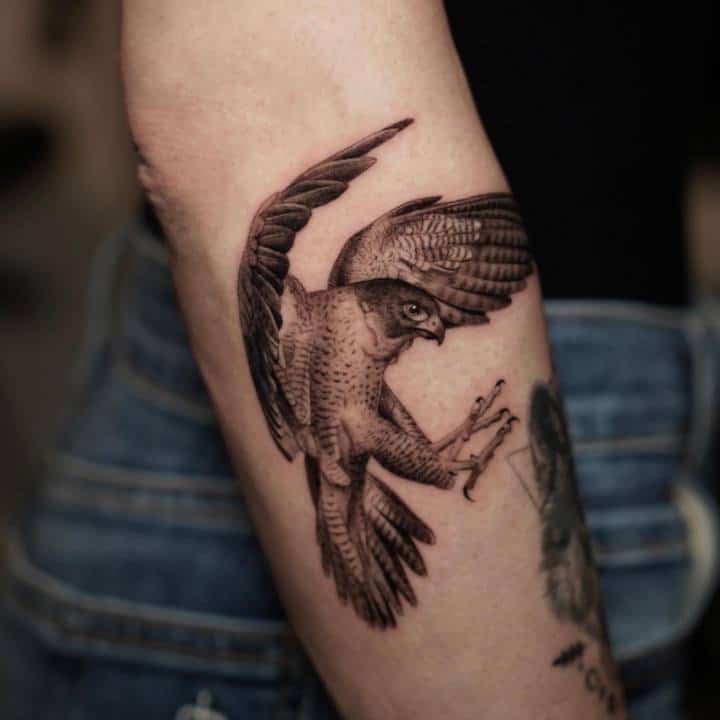 History of the falcon tattoo
Falcon tattoos have an ancient and rich history. The falcon was a symbol of many ancient cultures and peoples. In various mythologies and religious beliefs, the falcon is associated with gods, heroes and spiritual beings.
In ancient times, the falcon was also associated with hunting, belligerence, and protection.
The falcon tattoo was a way to convey these meanings and values through symbolism and art on the body.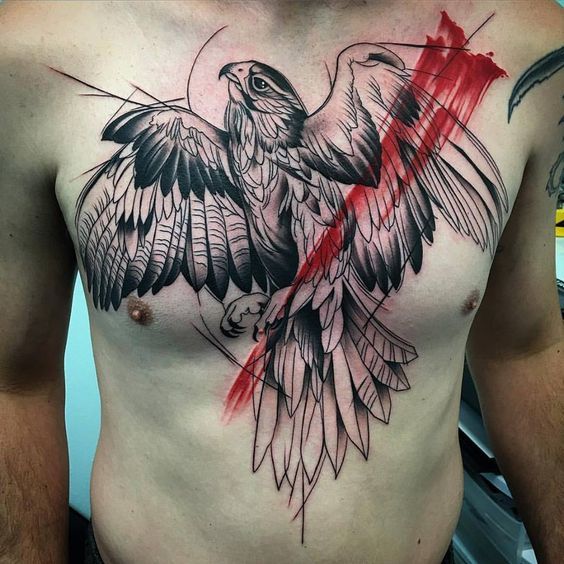 Falcon symbolism in tattoos
The falcon tattoo has profound symbolism that can vary depending on culture and personal preference. Here are some of the most common symbols associated with a falcon tattoo.
Power and might
The falcon is a powerful and impetuous raptor that symbolizes strength and energy. A falcon tattoo can express strength of mind and self-confidence.
Freedom and Independence
The falcon is a symbol of freedom and independence. It is perceived as a bird that can fly into the sky and gain freedom from limitations. Falcon tattoo can reflect the desire to be free from shackles and the desire for a free and autonomous life.
Inspiration and rebirth
The falcon is also associated with inspiration and rebirth. In many cultures, it is perceived as a symbol of spiritual awakening and a new beginning. A falcon tattoo can serve as a reminder of the constant growth and development of the individual.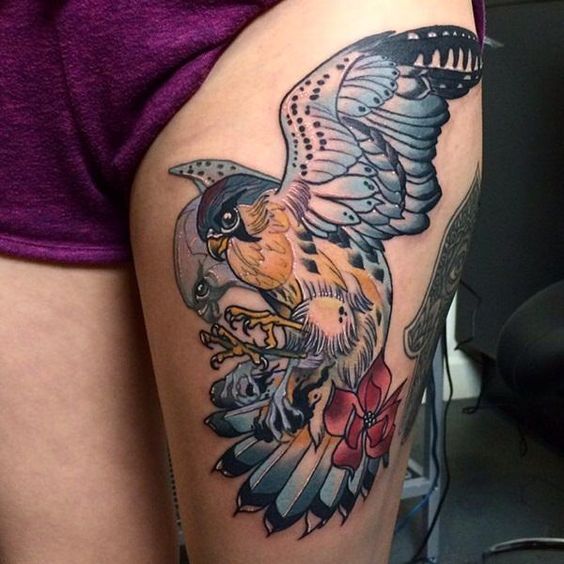 Popular falcon tattoo designs
A falcon tattoo can be done in a variety of styles and designs. Here are some of the most popular variations.
Realistic style
Realistic style falcon tattoos are highly detailed and realistic. They can be done in black and white or color and display every detail of the falcon's feathers, eyes and claws.
The realistic style emphasizes the natural beauty and anatomy of the falcon.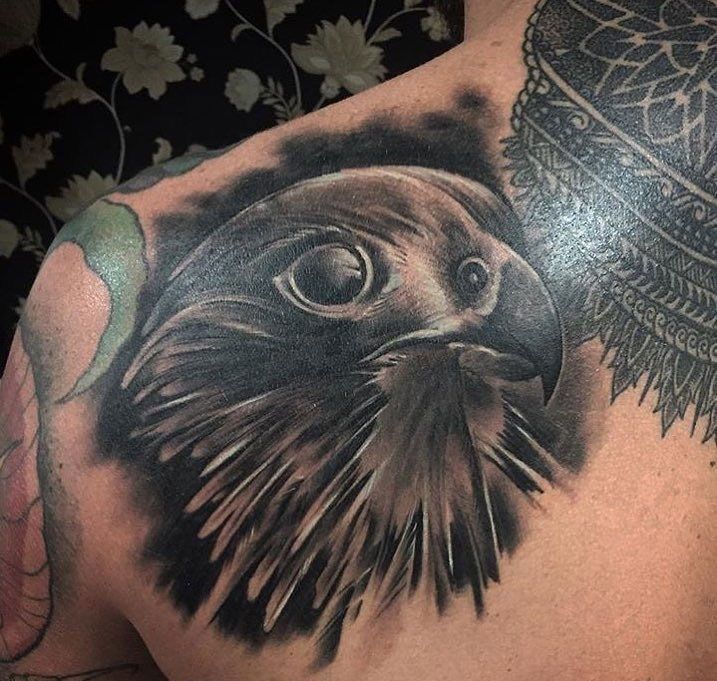 Traditional style

Traditional style falcon tattoos are inspired by classic nautical tattoos. They usually have bright colors, bold outlines, and graphic elements. The traditional style emphasizes the richness and expressiveness of the falcon image.
Geometric style
Geometric style falcon tattoos use geometric shapes and lines to create abstract and stylized falcon images. This style emphasizes the harmony of shapes and the symbolic meaning of geometric elements.
The falcon tattoo is a powerful and impressive symbol that can inspire and inspire admiration. Its symbolism is associated with strength, freedom, inspiration and rebirth. Different styles and designs of falcon tattoos offer a wide range of choices for those who want to express their individuality and inner strength on their skin.