The chameleon tattoo is an unusual design that is becoming increasingly popular in the tattoo world. It represents the image of a chameleon that changes its color and adjusts to its surroundings. This design has deep meaning and multifaceted meaning that can be interpreted differently depending on who is wearing it.
In this article we will talk about what chameleon tattoo means, what symbols can be used with it, how to wear it correctly and what benefits it can give to its owner.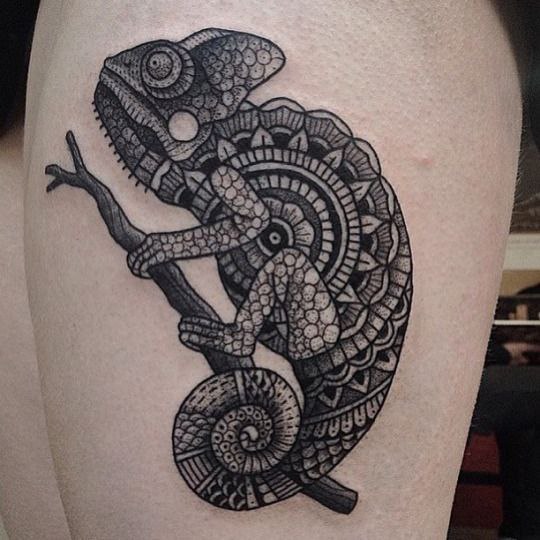 What does the chameleon tattoo mean?
The chameleon tattoo can have several meanings, depending on the context in which it is used. The general meaning of this design has to do with adaptability and changeability. The chameleon changes its color and adjusts to its surroundings, which makes it invisible and protects it from danger.
Thus, the chameleon tattoo can symbolize a person's ability to adapt to changes in life, to be flexible and adaptable.
However, the chameleon tattoo may have other meanings as well, for example, it may symbolize the fickleness of character, the ease in changing one's appearance and the tendency to disguise. Therefore, before choosing a chameleon tattoo, it is necessary to think carefully about its meaning and correspondence to your personality.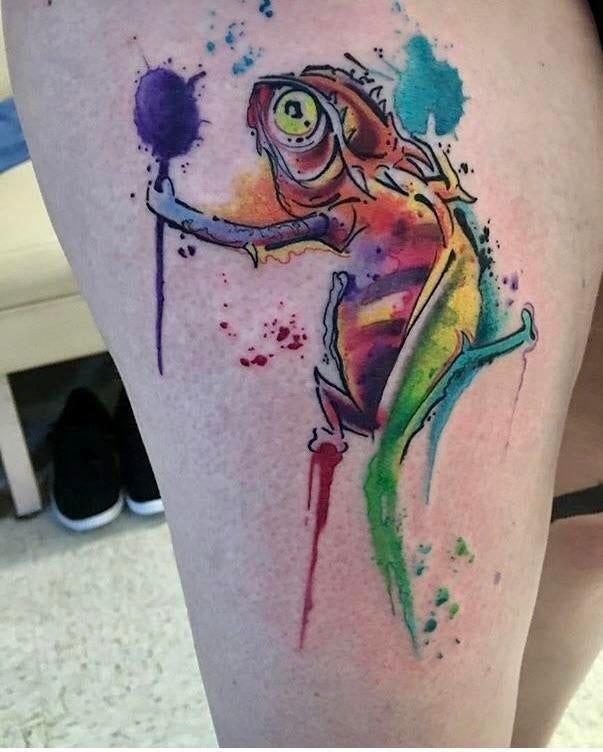 What symbols can be used with the chameleon tattoo?
The chameleon tattoo can be used with other symbols to enhance its meaning and effect.
For example, it can be combined with an image of a tree, which symbolizes life, growth and stability, which complements the idea of adaptability and adaptability.
In addition, the chameleon tattoo can be used with other animals, such as a snake or lizard, to create an overall reptile theme. This can add some element of mystery and intrigue to the tattoo. In general, the choice of symbols to combine with a chameleon tattoo depends on your personality, interests and the meaning you want to put into your design.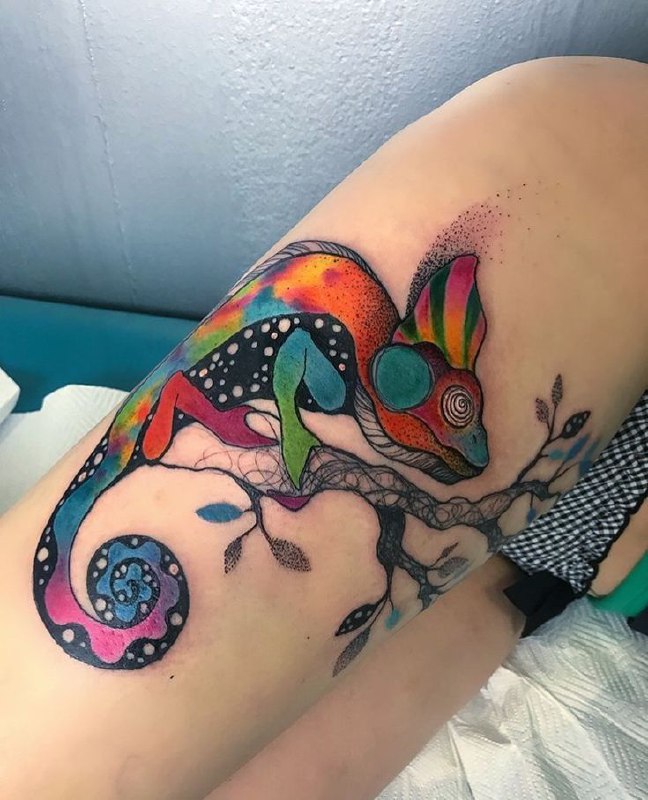 What is the right way to wear a chameleon tattoo?
A chameleon tattoo can be applied to any part of the body, but the choice of location depends on the effect you want to achieve. For example, a chameleon tattoo on the shoulder can symbolize protection and willingness to adapt, while a chameleon tattoo on the leg can add dynamism and mobility.
It is also important to consider the color scheme of the tattoo, which should match your body and overall style. A chameleon tattoo is usually green, brown or gray, but you can choose other shades that better match your preference.