Clown tattoos seem like they will always be popular, but often reach new heights.
Clowns have been around for centuries. Throughout history there have been court jesters hired to entertain royalty, mimes who entertained the masses, and circus clowns who brought smiles to children's faces.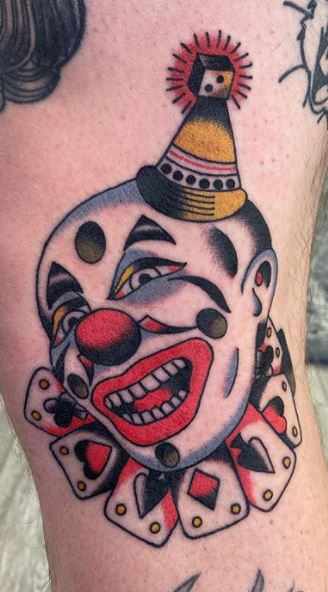 Ever since we were children, we have loved the classic white-faced clown at birthday parties and TV shows. These clowns made us laugh. Others tend to gravitate toward character clowns or Tramp for their silly antics. Sad clowns are common in some parts of the world and use their clowning as a form of self-expression.
Regardless of what form the clown takes or what he looks like, clowns traditionally entertain people with self-critical humor.
Clown tattoos and their meanings
A clown tattoo can have a double meaning. Perhaps this is why so many men and women come to the conclusion that clown tattoos are right for them.
Whether it is a sad artistic clown, a flamboyant circus clown, or an angry clown, many people get clown tattoos because of the wide variety of emotions this character can show.
If you are looking for a clown tattoo, check out some of these tattoos for inspiration.
Sad clown tattoos
Sad clown tattoos are one of the most popular drawings today.
It seems that everyone can relate to this image in one way or another. If you are doing a sad clown tattoo, try doing a side profile of the clown from the chest up, with his head turned to the right, looking at you, the viewer. Greater detailing of the hobo's messy, ungroomed hair and hat is a must. Outlining a frowning face with light color and a sad expression in the eyes will help you achieve the image you want.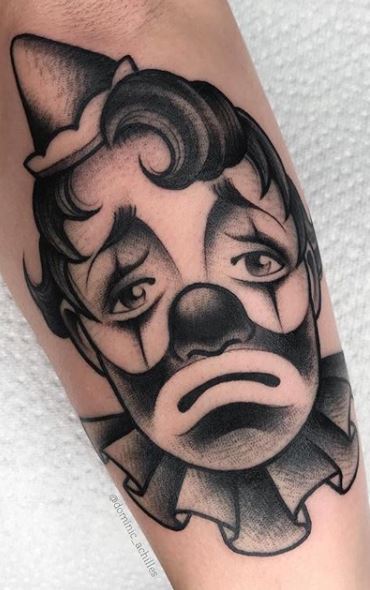 Joker Clown Tattoos
As an example, the image of the Joker that you see most often in tattoos is the character Joker from Batman. Try to depict the face close-up in light colors around the lower part of the eyes and nose, and everything else in dark colors. That way the red lips will stand out very well.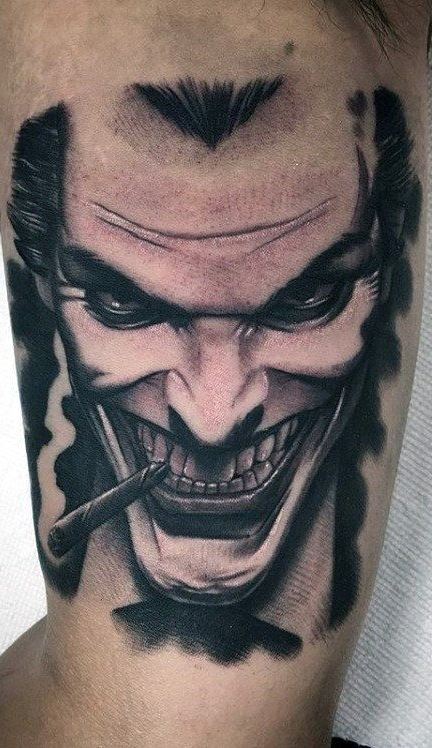 Evil Clown
Evil or scary clown tattoos not only look cool, but they also cause shock and awe. First, you need to decide how scary you want to be. Try the look of a classic clown with a white face, lots of dark shadows around the face and shoulder-length hair. The eye and nose details will look great, as well as the uneven scary curve above the eye. Such tattoos are very chilling to the soul and create a great design.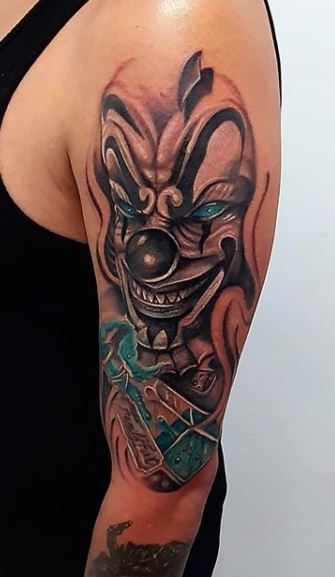 Chicano Clown Tattoos