Tattoos have become an integral part of modern culture and expression. One of the most popular and symbolic tattoos is the swallow tattoo. In this article, we will look at the history, meanings, and popularity of the swallow tattoo.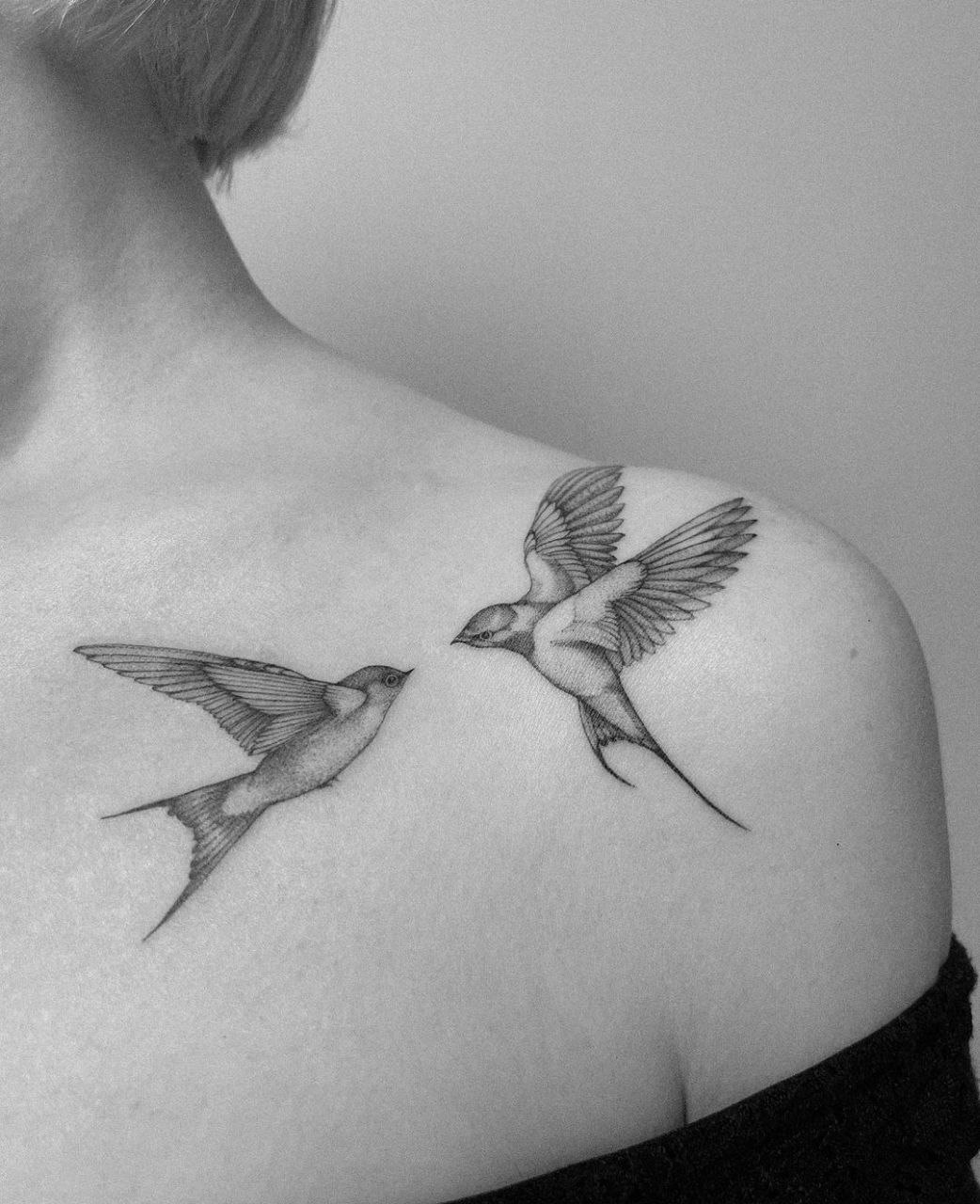 History of the swallow tattoo
Swallow tattoos have ancient roots and are firmly rooted in the history of various cultures. Already in ancient times, this bird symbolized freedom, travel and return home.
The swallow was usually associated with the approaching summer and new life.
Sailors often tattooed swallows to attract good luck and a happy homecoming after long sea voyages.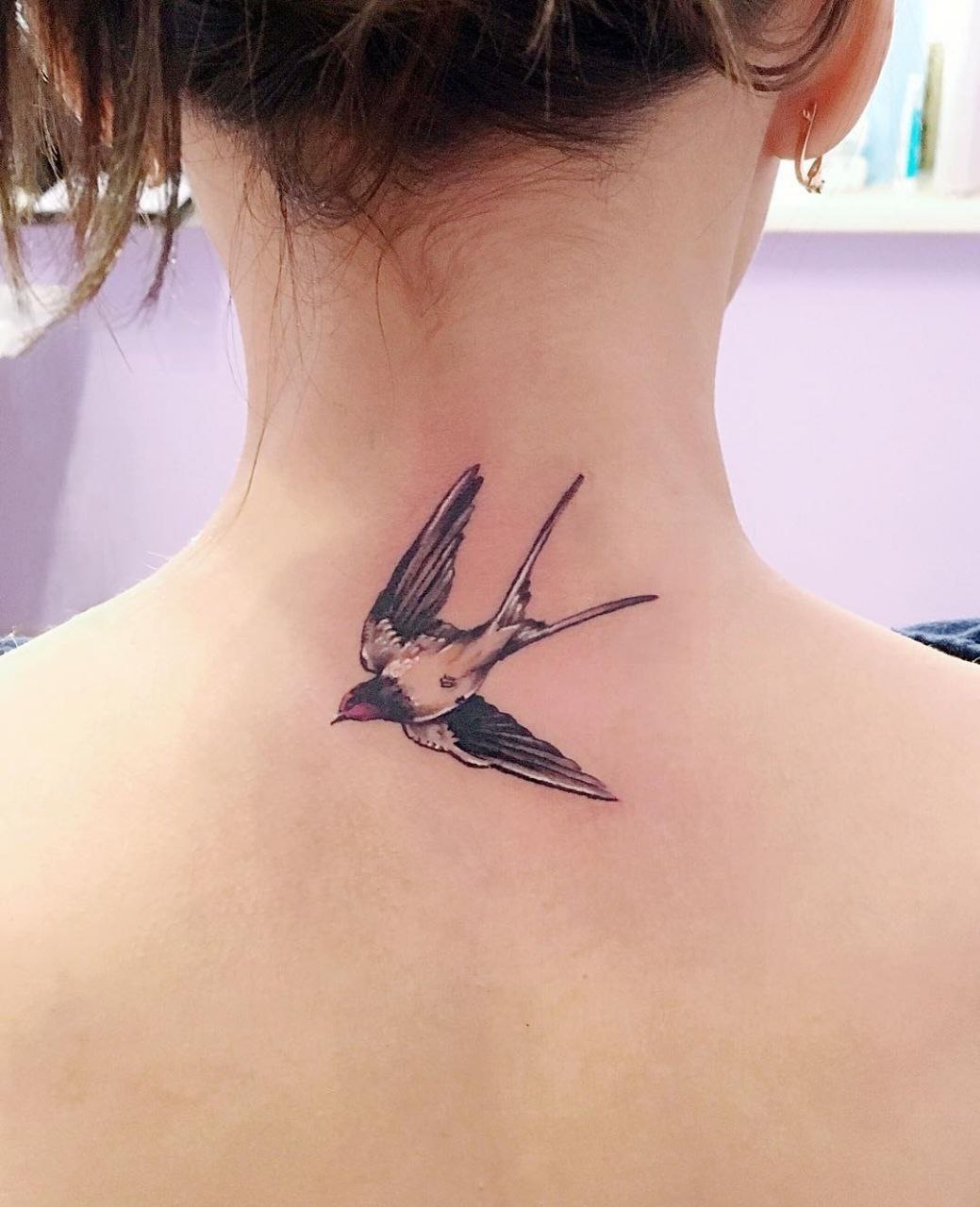 Swallow tattoo meanings
The swallow tattoo has different meanings in different cultures and contexts. Here are some common meanings of the swallow tattoo:
Symbol of freedom and travel: the swallow is known for its ability to return home after a long journey. Thus, it can symbolize freedom, travel, the pursuit of new horizons and a return to home.
Good luck and happiness: in some cultures the swallow is associated with good luck, happiness and prosperity. It is believed that seeing a swallow brings good luck and can attract positive events in life.
Return and family affection: swallows usually return home every year after a long migration. Thus, they symbolize the return and attachment to family. A swallow tattoo can represent family values, love for family and loved ones.
Hope and transition: in some traditions, the swallow is considered a symbol of hope and transition. It can represent a new beginning, leaving the old and moving on to a better life or new opportunities.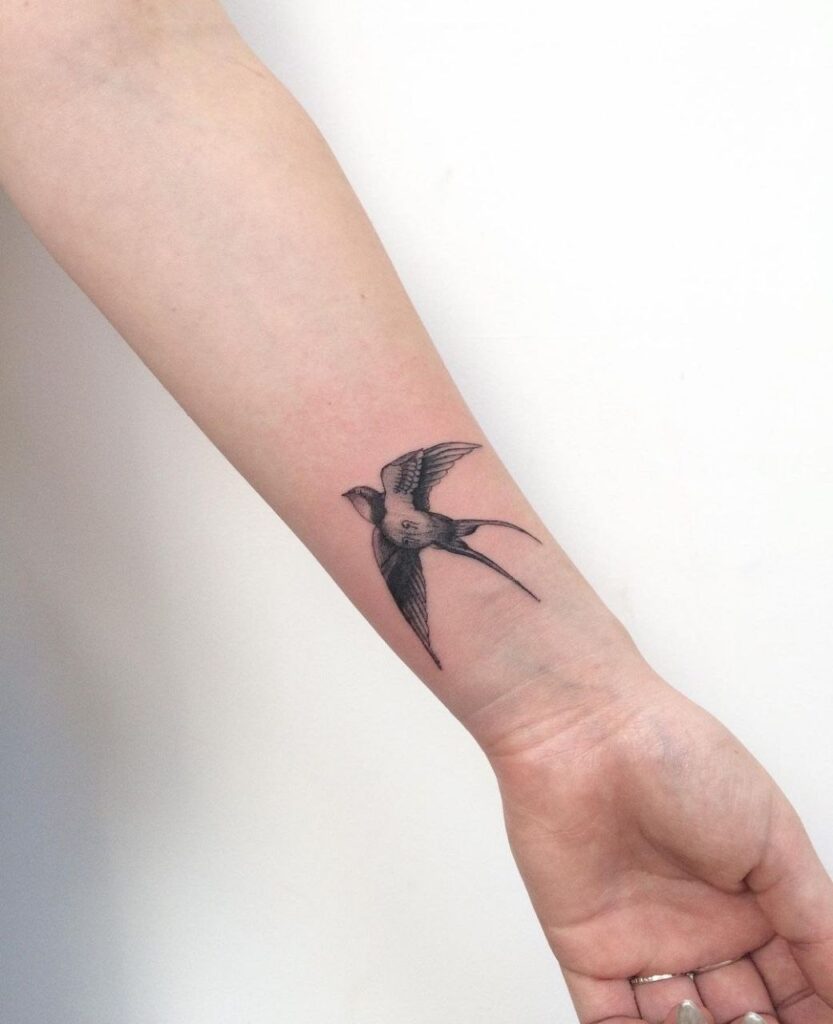 The popularity of the swallow tattoo
The swallow tattoo has long been popular and has had significant significance in tattoo culture. It is one of the classic and traditional tattoos that many people choose.
The swallow has an aesthetic appeal and its image on the body can look very attractive.
In addition, the symbolism of the swallow associated with travel, freedom and family makes this tattoo attractive to many people who want to express these meanings.
In traditional tattoo culture, the swallow had its own special place. For example, sailors often chose the swallow tattoo as a symbol of their return home after a long voyage. This created a certain romance around the swallow and contributed to its popularity.
The swallow tattoo has also gained popularity through the influence of fashion, movies, music and social media. Many celebrities have chosen this tattoo, which has attracted attention and inspired many fans.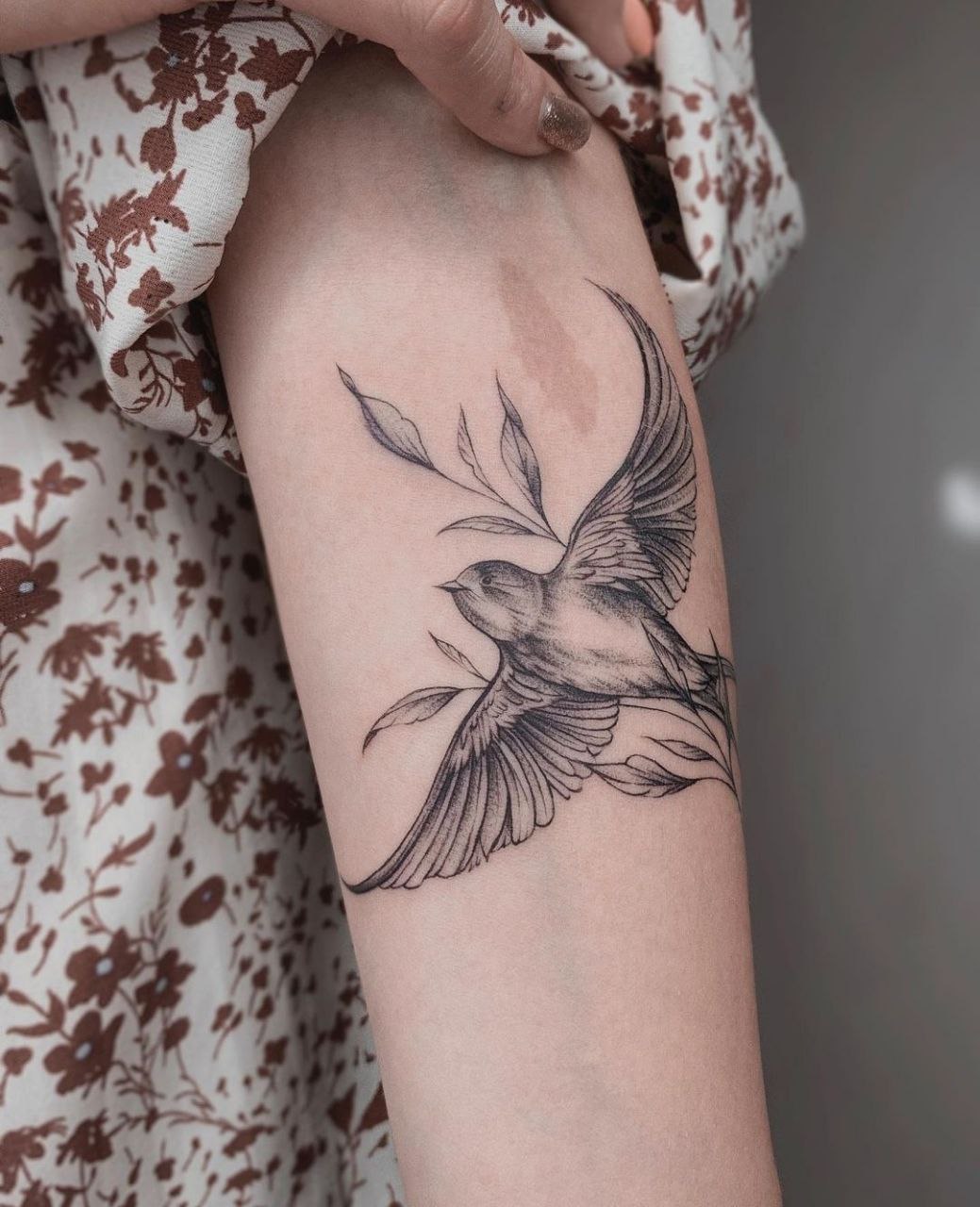 Trendy swallow tattoo styles
The swallow tattoo can be done in a variety of styles, making it even more appealing to tattoo enthusiasts. Some of the popular styles that go well with the swallow image include:
Realistic style
A realistic style swallow tattoo is an exact replica of this beautiful bird. Master tattoo artists who specialize in realism create stunning details that capture the eye and draw admiration from viewers. In a realistic swallow tattoo, you can see every feather, every contour of its graceful body and the brightness of its coloration.
Traditional style
The traditional style swallow tattoo has its roots in historical sailor tattoos.
This style is characterized by bright colors, painterly details and thick outlines.
The traditional swallow tattoo features a vibrant combination of reds, blues, and greens that give it a distinctive character.
Neorealistic style
The neorealistic style of swallow tattoo differs from the classic realism. In this style, the tattoo can be done in an abstract form or using geometric elements. Neorealistic style artists experiment with shapes, colors, and lines to create unique and original designs.